Back Up Back up Back up (and did we say) Back up
Lets start by saying out loud, "COMPUTERS AREN'T PERFECT, THEY BREAK". Seriously you could get anything from a corrupt file, to a virus, to hardware issues (motherboard, power supply, hard drive could fail). If you are walking with a laptop or a tablet, you could trip, drop it and have it break (Seriously that happens everyday). Having a good and valid backup can save you, at a minimum, your time and a major headache. Sometimes things on a computer are just irreplaceable. I guess your going to have to take the entire family on vacation back to Florida (or insert the location of your last vacation here), or you will have to ask your son/daughter to recreate their 1st baby steps (which will be awkward if they are now teenagers).
There are many ways to back up a computer. Files can be manually transferred to a storage device such as an external hard drive, or uploaded to an online storage facility. Files can be backed up individually or as an entire system. Software for performing backups can be downloaded for free or a very low-cost, may be part of a software suite, or included with a hardware backup utility. The option that will work best for you will depend on your needs and the importance of your files.
Windows XP, Windows Vista and Windows 7 all contain a built-in backup utility. Information on using it is available from Microsoft.
Windows 7 Backup and Restore (http://windows

NULL

.microsoft

NULL

.com/en-us/windows7/Back-up-your-files) (Windows 7 Information also applies to Windows 8 Users)
Windows Vista Backup and Restore Center (http://www

NULL

.microsoft

NULL

.com/athome/setup/backupdata

NULL

.aspx#fbid=XO1uUr73nGQ)
Windows XP Backup (http://support

NULL

.microsoft

NULL

.com/kb/309340)
On Mac you have the option of using Time Machine (http://www NULL.apple NULL.com/support/timemachine/). For Linux there are utilities like fwbackups (http://www NULL.diffingo NULL.com/oss/fwbackups).
These backup utilities allow you to your data to an external drive.  However keep in mind one more thing about backup files, they are only good to you if you have access to them.  There are many people who only backed up their files to an external hard drive. Keep in mind that your house could be broken into.  I happen to know someone who was affected by just such a scenario, where the crooks not only stole the computer but the external hard drive with the backup files. Another problem with only having a local backup is fire. 1000′s of homes catch fire every week, if your house happens to burn down, it could damage or destroy your only backup source. We hope that neither fire or theft ever happens, but you really do have to plan for the worse.
The recommendation for backup is to have 2 backup's (minimum) for any file that is considered critical.  One backup locally and one backup on an online backup service.  There are many online services available, some of which are free and others with charge a small amount for their service. Keep in mind, when your files are gone and you have no way to get them back, any fee would be considered small.
FREE Services
There are many sites out there that offer free storage for files. Sites like Google Docs (http://docs NULL.google NULL.com/), Dropbox (http://go NULL.tagjag NULL.com/dropbox), and SkyDrive (https://login NULL.live NULL.com/login NULL.srf?wa=wsignin1 NULL.0&rpsnv=11&ct=1356856617&rver=6 NULL.2 NULL.6289 NULL.0&wp=MBI_SSL_SHARED&wreply=https:%2F%2Fskydrive NULL.live NULL.com%2F&lc=1033&id=250206&mkt=en-US&cbcxt=sky) will offer a limited amount of space (usually between 5 gig and 25 gig) but if you don't have much that needs backing up then that may just be the solution for you.
PAY Services
Of the pay services, the 3 most known ones as Mozy (http://mozy NULL.com/), iDrive (http://www NULL.idrive NULL.com/?p=techgeekandmore), and Carbonite (http://www NULL.carbonite NULL.com/en/). If you pick any one of these 3, you will be well served.  In addition Mozy and iDrive offer free storage (2 gig for Mozy / 5 gig for iDrive), which works well if you want to test drive either service before signing up for the pay service or if you just have a small number of files to back up.
2 gig's of storage will back up (average size files)
250,000 emails
340 MP3 files
300 photos
Carbonite does not offer free storage, but does offer a free trial (15-days) for its service.
What Tech Geek and More Uses and Recommends
I'm going to start this section with a disclaimer: iDrive has been a Tech Geek and More partner (sponsor) for the past 2 years. If you chose to sign up for iDrive (http://www NULL.idrive NULL.com/?p=techgeekandmore) via links in this post or via the banner on the Tech Geek and More home page, iDrive will pay Tech Geek and More a small (trust me its small) commission for new customer sign ups. That commission goes toward supporting the Tech Geek and More site expenses.
Of all the pay services, I have used iDrive as my personal backup for the past 5 years. That is long before they became a sponsor of Tech Geek and More. In all that time, I can honestly say that there has never been an issue with the service and support I have received from iDrive. In the 5 years, I've had multiple computers suffer failures and have been fortunate to have minimal loses due to my online backup.  Some of the reasons I prefer iDrive over the other services (these are options with a paid account, not the free 5gig account)
Multiple Device Backup – You can backup Unlimited PCs, Macs, iPhones, iPads and Android devices into a Single Account
Manage Multiple Sub Accounts – IDrive Pro personal and business users can create and manage multiple user accounts from a single administrative log in and a central console.
Depending on which account version you sign up for (150 gig for $4.95 month / 500 gig for $14.95 month) you can back up all your important files on your pc or laptop (Windows, Mac, Linux), as well as contacts, photos, and videos from an Android tablet / phone or an iPhone/iPad.
Versioning – IDrive retains and allows you to restore the last 30 versions of all files backed up to your account. Your storage is computed only for the most current version; historical versions are stored free
So you have a document you have been working on for days, and suddenly you realize something you removed from the document 3 days ago really should have been left in. You can go into your backup set and get the copy that was backed up 3 days before you made the changes. This is a life saver for those who do heavy work with office documents.
Retrieve data from anywhere – Login via any browser to your account to access backed up data, view log reports and restore data on the local system
You can use everything from the iDrive app on your phone to the iDrive website to get to your files. Which means you don't have to be on your pc to get a file you need, you can get a file even if you are at work or at a friend's house, without having to install the software on a computer.
Mapped Drive Backup – iDrive Supports backup of mapped and external hard drives
This will allow you to backup network drives or external drives as well.  Not all services allow for network drive or external drive backup.
Price Options – You can pay for your service for a year or month to month.
All the online backup services are priced pretty close to each other, but not all services allow for month to month billing. For some people paying $60 (or so) all at once may be difficult. However, most people can manage $4.95 a month.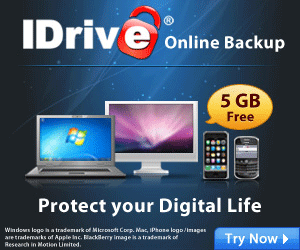 (http://www NULL.idrive NULL.com/p=techgeekandmore)
Final Thought
Just think for 1 minute, is there anything on my computer (or phone or tablet) that if I lost would cause me grief, be a nightmare to recover from, or be irreplaceable (Family pictures come to mind). If you said yes to any of these things YOU NEED TO BACK UP! and you need to be redundant about your backup. If it's on an external hard drive, make sure it's on more than 1 because they break just as easily as drives inside your pc. Also make sure that at least 1 copy of your back up files is nowhere near the pc. If you chose to just use external drives as your backup source, take one of those drives and put it in a safe deposit box, or take it to a friends or family members home. If your backup files are in your home and you suffer a fire or break in, those backup files will do you know good once they are gone (stolen) or burned up. I can work a lot of magic to get you up and running, but if you don't have a backup of your files, there is very little I can do, and I would hate to tell you that your "Out of luck" someday.